Description
Hello 5G
5G transforms iPhone with accelerated wireless speeds and better performance on congested networks. Now you can download huge files on the go or stream high-quality HDR movies. Without. All. The. Lag. iPhone also has the most 5G bands of any smartphone so you get 5G in more places. And all that speed opens up amazing possibilities for the future of apps.
A14 Bionic The only thing even close was our last chip
A14 Bionic is the first 5-nanometer chip in the industry, with advanced components literally atoms wide. Forty percent more transistors rev up speeds while increasing efficiency for great battery life. And a new ISP powers Dolby Vision recording — something no pro movie camera, let alone any other phone, can do.
LiDAR technology
Scans the surface of Mars. And now your living room.
NASA is using LiDAR technology for its next Mars landing. iPhone 12 Pro uses a LiDAR Scanner to measure how long it takes light to reflect back from objects. So it can create a depth map of whatever space you're in. Because it's ultrafast and accurate, AR apps can now transform a room into a realistic rainforest or show you how a new sneaker will fit.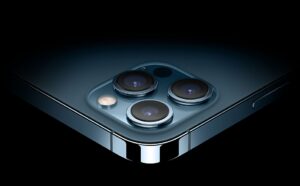 Pro camera system
A new day for Night mode.
The bigger iPhone maxes out the Pro camera system. A 47 percent larger sensor and larger pixels dramatically increase the amount of light gathered on the Wide camera. A new OIS stabilizes the sensor instead of the lens so your shots are steady — even when you're not. And the new 65 mm Telephoto camera lets you zoom in tighter on portraits.
Apple ProRAW
For an absurd amount of creative control
ProRAW gives you all the standard RAW information, along with the Apple image pipeline data. So you can get a head start on editing, with noise reduction and multiframe exposure adjustments already in place — and have more time to tweak color and white balance.
Turbo chargeable
Magnets align themselves perfectly every time for faster wireless charging.